After years of sampling Virginia's excellent wines, the Gauthiers were inspired by their extraordinary tasting experience at Cave Ridge Winery located in the Shenandoah Valley in Mount Jackson, VA. When approached, Cave Ridge's founder and vintner, Randy Phillips, graciously accepted the Gauthiers' request for his mentorship in realizing their winery dream. Under Randy's tutelage, the Gauthiers and their friends planted the first 3200 vines on their Fair Winds Farm in April of 2012. In 2013, the Gauthiers completed construction of their winery, purchased select grapes grown in Shenandoah Valley vineyards and have leased mature vines in the Shenandoah for future grape production.
Gauthier Vineyard's first estate grown grapes were harvested in the late Summer and the early Fall of 2014. Production of their estate wines were performed on the premises under Randy's guidance.  Gauthier Vineyard's estate wines are made from their Norton grapes.
Randy's impressive record for producing award winning wines and his generous mentorship lie at the heart of the Gauthier Vineyard offerings. The Gauthier Vineyard offerings are provided as an invitation to a memorable wine tasting in a serene country setting just six miles from interstate 64 and four miles from Saude Creek, our closest neighboring winery. Private tastings for groups of six or more are available by appointment.
Discounts:
15% for active or retired military on all bottle sales.
5% off for 6 bottles; 10% off for 12 bottles (case)
(No cascading discounts and single payment required for discounts)
White Wines
Chardonnay 21 ~ Oak Aged
Chardonnay is one of the most popular white wines in the world and one of the few white wines that can be aged.  The variety originated in the Burgundy wine region of eastern France, but is now grown wherever wine is produced.   While many white wines lose their flavor after a few years in the bottle, Chardonnay can keep improving for five to eight years.
These Chardonnay grapes were destemmed and the berries were pressed whole without crushing to achieve a softer texture with less tannins.  Fifty percent of our 2020 Chardonnay was aged in French oak barrels. During that time, the oak imparts a toasty, buttery character to the natural fruity characteristics of this wine.  The remaining 50% was aged in stainless steel.  The two wines were then blended.
Pairings: This wine is perfect with light and delicate food such as raw and lightly cooked shellfish like oysters, crab and prawns, steamed or grilled fish, fish pâtés, fish, chicken or vegetable terrines and pasta or risotto with spring vegetables.
$26/bottle, $7/glass
Viognier 21~ Stainless
Viognier is presumed to be an ancient grape, once fairly common. By 1965, the grape was almost extinct when there were only eight remaining acres in the Northern Rhone region of France. It is the only permitted grape for the French wine Condrieu in the Rhône Valley. Outside of the Rhône, Viognier can be found in regions of North and South America as well as Australia, New Zealand, the Cape Winelands of South Africa as well as in Israel and the Bekaa Valley of Lebanon. Over the years, the popularity and price of the wine have steadily risen. The most common comments we hear from our guests are "floral, peach, melon, tropical fruits." Viognier is frequently referred to as the state wine of Virginia. It ages well, but is best enjoyed now.
Pairings: This wine pairs well with a wide variety of seafood and shellfish, roasted or grilled chicken, veal, pork, spicy flavors and Asian cuisine. It is also delicious with select vegetable and salad courses and of course hard or soft cheese.
$24/bottle, $7/glass
Gazebo Blanc 20 ~ Light oak
Two classic French varietals come together to create a special wine incorporating the best characteristics of Chardonnay fermented in stainless steel and Viognier carefully aged in barrels made of French oak.  This sweeter flavorful blend integrates the crisp fruity flavor of Chardonnay and the toasty, buttery flavor of barrel aged Viognier
Pairings: This wine pairs well with a wide variety of seafood and shellfish, roasted or grilled chicken, veal, pork, spicy flavors and Asian cuisine. It is also delicious with select vegetable and salad courses and of course hard or soft cheese.
$26/bottle, $7/glass
Riesling '20
Riesling is a white grape variety which originated in the Rhine region of Germany.  Riesling is an aromatic grape variety displaying flowery, almost perfumed, aromas as well as high acidity. It is used to make dry, semi-sweet, sweet, and sparkling white wines. Riesling wines are usually varietally pure and are seldom oaked.  Riesling grapes take on the character of the land in which they are grown. Virginia Rieslings have the wine's typical floral and fruit characteristics. Riesling is a much under-appreciated variety, perhaps because professional tasters' opinions range widely from bone dry to slightly sweet.  So, if even the professionals don't see eye-to-eye, why should you?  In the end, it's your palate that tells the tale.  Our off-dry Riesling has flavors of tropical fruits – mango, papaya and pineapple, with a light off-dry citrus finish. Sample and decide for yourself!
Pairings: This wine is extraordinarily versatile with food. Our off-dry, crisp Riesling pairs particularly well with  delicate seafood or such as sushi and sashimi.

Sauvignon Blanc '22
Sauvignon Blanc is a white wine that owes much of its popularity to winemakers in Bordeaux and the Loire Valley in France.  The taste of this wine is very different from other white wines, like Chardonnay, because of its green and herbaceous flavors.  It is one of the most widely planted wine grapes in the world, and because of this it has a wide range of styles and flavors.  Our 2020 Sauvignon Blanc comes from Oregon and has distinctive notes of apple and pear with a light finish.
Pairings: This wine is a great accompaniment for fruit and cheese, salads, and other light fare.   It's popularity is due to its light sipping rewards.
$24/Bottle, $7/glass
Red Wines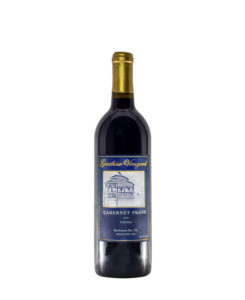 Cabernet Franc '21
Cabernet Franc is one of the major black grape varieties worldwide. It is principally grown for blending with Cabernet Sauvignon and Merlot in the Bordeaux style, but we believe the Virginia "Cab Franc" has remarkable characteristics calling for it to stand alone.  This is a black grape varietal, grown on our leased Shenandoah vines.  It has notes of dark fruit and a long-lasting black pepper finish. Aged in Hungarian oak, this approachable light bodied wine with soft tannins can be enjoyed now, but also ages well in the bottle.                                                                                                       
Pairings: Cabernet Franc is a food friendly wine. Try it with roast chicken, pork, roasted or grilled, beef, duck, sausage, lamb, veal, hearty fish dishes and even hard as well as soft cheese.
$32/bottle, $9/glass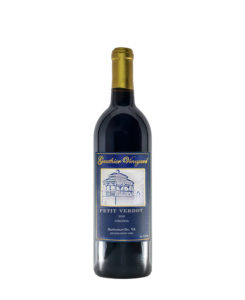 Petit Verdot '21
The exact origins of Petit Verdot are unclear.  It is thought that the grape is one of the first varieties originally planted in Bordeaux by the ancient Romans.  In Bordeaux, Petit Verdot is primarily a blending wine due to its natural acidity.   This wine, as a stand-alone, is rich in color, firm in structure and abundant in flavor.  It is a highly concentrated grape, exuding abundant color, structure and flavor. Its aromas circle around vanilla, smoke, spice, cedar and molasses.  Petit Verdot is another Bordeaux red that is at home in Virginia.  The Petit Verdot flavor profile often exudes dense, dark fruit such as blackberry, black cherry and black plum.  It has balanced tannins with a soft finish.  Our Petit Verdot expresses dark fruit like black cherries and olive characteristics. This wine ages well for 5 to 10 years, but is also enjoyable while it is young.
Pairings: Petit Verdot is a natural fit for rich, meat dishes, grilled steak, spicy pork, veal, lamb, all types of game and sausage. Spicy foods pair well with Petit Verdot and it's perfect for a myriad of different hard and semi soft cheeses.
$32/bottle, $9/glass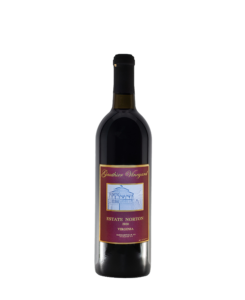 Estate Norton '21
Gauthier's 2017 Estate Norton was our first estate grown and estate bottled wine.  The Norton grape has uniquely Virginia origins worth sharing here.  Norton's origins go back to one of America's founding fathers and his attempt to find a grape that could produce a wine similar to the libations produced in the Old World.  Thomas Jefferson put a lot of effort behind cultivating a wine culture in the new land, but Jefferson was not alone in his pursuits. While Jefferson was never able to fully see the fruits of his efforts, another man had much better results.  In Richmond, Dr. Daniel Norton discovered his experimental vine was well suited for growth in Virginia soil.  What Dr. Norton had was a native grape that had the ability to create wines similar in flavor and aroma to its European cousins.  The next step was getting that wine made.
Dr. Norton made the grape commercially available for purchase, and in 1830, the vines found a home in Missouri, which at the time was the closest thing America had to a Napa Valley.  Missouri would become the wine capital of the new country, and Norton became the signature grape. The German settlers who founded the Missouri wine region loved how the Norton grape could survive in the harsh and cold conditions of the region, unlike the French vines that died easily, and how it was virtually impervious to diseases.
Shortly after arriving in Missouri, Norton hit what would become its heyday. The wine made from the grape spread across the US, and even found fans in Europe. In 1873, Norton wine won the gold medal in the international exhibition in Vienna. Things were really looking up, and it seemed for a time that Norton would spread like wildfire, becoming the dominant grape in the entire country, and then Prohibition hit.
With the onset of Prohibition, Norton and other wine grapes such as Cabernet and Merlot were pulled up across the country, with the sweet Concord grape planted in their place. Grapes used for primarily making wine had no place in the booze-free US, and with no one else growing Norton around the world, it fell into obscurity. When Prohibition finally ended in 1933, the wine that had been drunk in secret during that time all came from other parts of the world — locations that had never used the Norton grape — so when America began to rebuild its wine regions, they looked to the wines they drank during Prohibition as their inspiration, and that did not include Norton.
For 56 years following the end of Prohibition, the Norton grape was rarely planted and few remembered the wine it used to create. Then in 1989, a University of Maryland graduate named Dennis Horton purchased a small plot of land in Virginia, and set up a vineyard, determined to return Norton to its rightful place as a noble American grape, capable of producing fantastic wines. Since then Norton has slowly begun to be cultivated again in its birthplace of Virginia as well as the state of Missouri which made it famous all those years ago. Who knows what the wine world has in store for Norton, as tastes and preferences continue to evolve, but the real lesson here is that like any good American, the Norton grape never gives up.
This wine as a stand-alone is rich in color, firm in structure and abundant in flavor.  With structured tannins and notes of leather and dark plum.  It can be aged 5 to 10 years but also enjoyed now.
Pairings: Norton pairs well with acidic, full-bodied dishes. Foods and Entrees that usually pair: Pairs with barbeque, chicken, veal, pork, game and beef that has acidic sauces or marinades.
$26/bottle, $9/glass
Woodmont '21
This is Gauthier Vineyard's signature blend of our estate grown Norton with our grapes grown in the Shenandoah Valley.   Named for our Inn, this is our five-varietal signature blend of our estate grown Norton with our grapes grown in the Shenandoah Valley: Cabernet Sauvignon, Cabernet Franc, Petit Verdot, and Chambourcin.  This blend cultivates an assortment of dark fruit flavors, subtle tannins, with a note of cinnamon on the finish.
Pairings: This blend is very food friendly. Try it with grilled, beef, duck, sausage, and lamb and hard as well as soft cheeses.
$30/bottle, $9/glass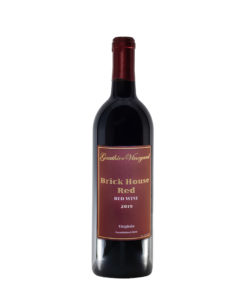 Brick House Red '20
This wine is an exceptional blend of Cabernet Franc, Petit Verdot, Cabernet Sauvignon and Chambourcin.  Aged separately and blended just before bottling, these four blending wines were aged in a combination of French and Hungarian oak. We find these wines, in just the right combination, come together to create a cultivated flavor with notes of spice, black olives and dark fruits with a long and lasting finish.   The name for this wine was chosen to memorialize a now dismantled New Kent County historical site located just a few miles from the winery.  The town of Brick House, once situated at Brick House Point (at the tip of Plum Point) on the York River, was established circa 1670, and is alleged to be the first town in New Kent County.
Nathaniel Bacon's Rebellion (1676-1677) was colonial America's first rebellion against the British Crown.  Brick House was already a place of importance, serving as the seat of the county courts.  The New Kent County Clerk at the time, Thomas Hall, was one of Bacon's lieutenants.  For his part in the rebellion, Thomas was apprehended and transported up the Pamunkey River to the bustling colonial port located at Cumberland.  It was Thomas' misfortune that HMS AURORA was lying to in Cumberland.  He was taken aboard the AURORA and hung from a yardarm.  It was a short rebellion.
Pairings: This blend is very food friendly. Try it with grilled, beef, duck, sausage, and lamb and hard as well as soft cheeses.
$32/bottle  $9/glass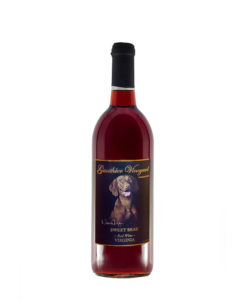 Sweet Beau '16
This wine is a blend of the first harvest of our estate grown Norton and Chambourcin grown on our Shenandoah Valley leased vines.  This wine is sweet with a hint of blackberry.  It captures the personality of Gauthier Vineyard's winery dog, Rochambeau (aka Beau), a Vizsla born in Crozet, VA.  His smiling portrait is prominently featured on the label.
Pairings: This blend is good served with desserts, particularly fruit-based offerings as well as soft cheeses.
$25/bottle, $8/glass

Gazebo Rouge '19
This wine is made from Chambourcin grapes grown on our vines in the Shenandoah Valley.  Chambourcin is a purple-skinned, French-American hybrid grape that is more readily available in the United States and Australia than in its homeland, France.  It is one of the world's most popular hybrid varieties, and is noted for its distinctive dark coloring and herbaceous aroma. Chambourcin wines are often spicy, with black cherry and plum flavors, and a range of herbal characters.  Chambourcin's exact parentage is unknown, but it is thought to be a crossing of native North American vines with a French hybrid.  Its hybrid status prevents it from qualifying as a meritage blender.  This version of Chambourcin wine is fermented in a slighty sweet style in response to requests from many of our regular guests.  It is a spicy, easy drinking red wine with a sophisticated smooth finish.
Pairings: Chambourcin is another food friendly Virginia red wine.  It will go well with a firm grilled fish, roast chicken, all the way up to beef and lamb dishes.
$22/bottle, $8/glass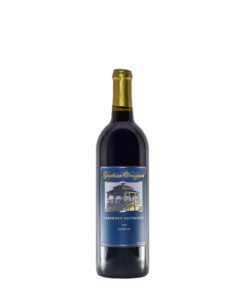 Cabernet Sauvignon '19
One of the world's most widely recognized red grape varietals.  There are certain flavors and aromas that present in this wine, particularly black currant and green bell pepper with a very structured tannin finish.
Pairings: Cabernet Sauvignon pairs well with red meat and heavy stews.
$30/bottle,$9/glass
Pinot Noir 2021
A black grape varietal grown in the Carneros Wine region in Sonoma County, California, that traces its ancient roots back to Burgundy, France. Aged in oak for one year, this light bodied wine has silky tannins with notes of cherry and subtle spice. A versatile food friendly wine that pairs well with lighter red meats, poultry, mushrooms and blue cheese.
Our Ports
Technically, unless made in Portugal, you cannot call your wine a "Port." Port wine is a Portuguese fortified wine produced with distilled grape spirits exclusively in the Douro Valley in the northern provinces of Portugal. It is typically a sweet, red wine, often served as a dessert wine, though it also comes in dry, semi-dry, and white varieties. Gauthier Vineyard offers two port-style wines — a red and a white.

Lafayette Reserve 2015
This white port-style wine is made from Viognier, fortified and aged in new French oak for ten months. Pear and peach aromas and flavors, unusual for Viognier, make this a special dessert wine.
Pairings: This white port-style wine pairs very well desserts such as cheese cake and crème brulee. One guest reports success in drizzling it over fruit filled crepes. Use your imagination.
$25/bottle, $9/glass

Rochambeau "Starboard" 2016
This fortified wine made from the Chambourcin grape is 17.5% alcohol (35 proof). After fermentation and aging in French oak for one year, it is fortified with grain alcohol to preserve its distinctive Chambourcin character before being transferred to retired bourbon barrels from a nearby distillery, where it rests for one year prior to bottling. The appellation "Starboard" is a play on words with starboard as the nautical term for the opposite side of the ship from the "Port" side.
Pairings: This red port-style wine pairs very well with chocolate, especially dark chocolate truffles. The soft rich texture, and earthy flavor of chocolate truffles goes well with the deep, fruity, slightly sweet flavor of this wine. In addition to chocolate, it goes well with blue cheeses and dried fruits.
$30/bottle, $11/glass